Will update with more pictures and equipment as I continue to add to the list...
Sanke Keg Soleras/Fermenters

Additional details - viewtopic.php?f=41&t=11259&hilit=solera
I have 3 of of these available, but they vary a bit for each one:
Option 1 - $120 ea - Qty 2 available:
Includes 58 liter sanke, and the triclover pieces shown below (less the ball lock fitting attached to the "T", but includes the 2" triclover required to attach to the keg). All you'd need to add would be whatever fittings you want to attach (valves, ball lock fittings, etc). One of these has about 40 liters of 1.5 year old flanders red in it. It's yours to have...I haven't pulled a sample in months, so no idea how it tastes right now.

Option 2 - $90 - Qty 1 available
: Same as above, but does not include the 1.5" triclover "T", and the sanke keg is a 50 liter, rather than 58l.
$40 - Carb lid assemblies - price is for qty 2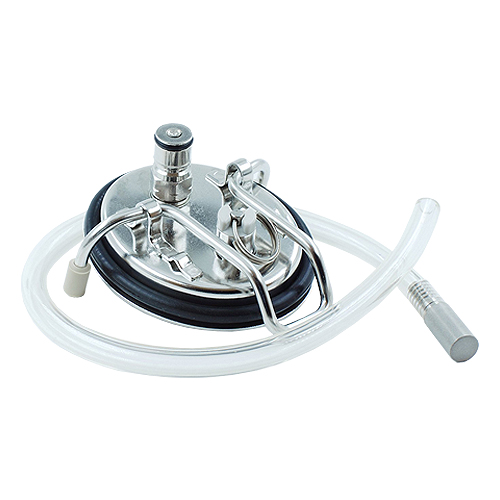 $1500: BREWHA 3-in-1 Conical (95 Liter Capacity).
This can be used as a mash tun, boil kettle & fermenter - it has a built in 2" triclover for electric element and can be used in conjunction with BREWHA mash colander. This price is for the bare fermenter with lid.
$120 - 5500w element with enclosure (2" Triclover) & power cable
$50 - Ranco temperature controller
$60 - STC1000 Temperature Controller
$15 - 1.5" Triclover Pressure relief valve
(great for pressurized transfers or for fermenting under pressure)
$60 -Temperature control valve (Water control solenoid).
This can be used in conjunction with a temp controller to automatically control water flow for heating/cooling fermenter. Standard garden hose fitting on input, 1.5" triclover on the output.
$20 - 1.5" Triclover Aeration assembly
$200 - Electric Brewing Control Panel
. You can control element power via dial, or can combine with Ranco to control based on a set temperature.